If you cannot see this newsletter properly, please go to http://thekreativekorner.com/newsletters/201011_newsletter.html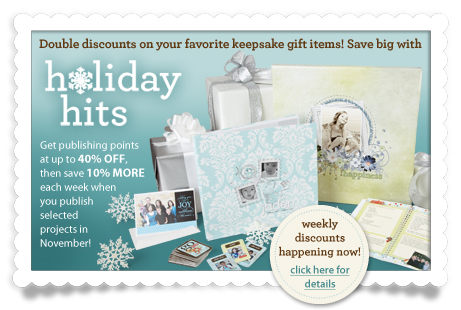 Your Best
Holiday Ever!
Do you dream of orchestrating the perfect holiday experience? You know the fantasy — the inner smugness of early shopping before the crowds hit, the holiday home décor even Martha Stewart would appreciate, and the entire month of December spent at home with family, blissfully celebrating the true spirit of the season.
Yeah, right!
Unfortunately, the dream that fires up brightly in October, usually burns down to a few embers in November, and is finally snuffed out completely by early December. Well, at Heritage Makers we say, "Don't give up on the dream! We can help you make it happen!"
"How?" you say. Two words…HOLIDAY HITS!
Holiday Hits is a special promotion from Heritage Makers that will help you in two ways. First, it provides early publishing discounts on selected products each week during November.
Second, the Holiday Hits web page is loaded with fun ideas for seasonal décor and adorable gift suggestions. Browse the weekly specials and don't miss the bonus video demos for tips and tricks!
If you need more publishing points, be sure to double your discount by taking advantage of our 40% off "Like It!" "Love It!" or "Gotta Have It!" points packages. Just click here to use a special Holiday Hits planner to determine how many points you need.

So hold onto your dreams! With help from me, there's still time to pull off a Christmas miracle.
Visit my website
and click the "Holiday Hits" image to get all the details.
---
November's New Studio Art
If you haven't already checked out November's new art collections, get ready to get excited. Fourteen collections are in this month's mix, including the eight shown here.
"Jack Frost" and "Merry Christmas" were chosen to help round out your holiday memory making. "Jack Frost" is designed in aquas and greens—the hot new colors this winter season, while "Merry Christmas" features traditional holiday colors.
For girl-style gorgeous, nothing can beat this month's two collections from Sweet Shoppe's Julie Billingsly. "Tea 4 Two" and "The Heart of Rock and Roll" are ultra-hip kits that will be a huge hit with tween and teen girls. Designed with strikingly similar color palettes, papers and elements can be mixed and matched for storybooks packed full of girl power.
And if you're looking for fall or holiday sophistication, check out the "Falling Softly" and "Crazy 4 You Add On" collections. Absolutely elegant, with the trend-setting colors seen in contemporary home décor, these collections are a must for those with an eye for high style.
Pictured here, and also sure-to-be hits, are a new pet collection called "Playful Pups" and an all-Basic baby girl collection called "Sweet Little Girl." Hot tip for the "Playful Pups" collection: use the bones alphabet from last month's "A Spooktacular Evening" to complement this playful pooch theme.
In November alone, over 700 pieces of new art were added to Studio. With current offerings at well over 50,000 pieces of art and thousands of templates, a
Premier account
increases in value every month and is your ticket to an almost unlimited number of pages and projects.
Not a Premier member yet? No problem. You can get a FULL YEAR of premier for just $99.95 (less than $9 per month). Watch a short video about Premier:

---
The Joy of "Getting It"
"It's so much fun when you see people get it!"
OK, what are we talking about here? A tax refund? A college diploma?
No, we're talking about the moment people realize that Heritage Makers could be something very wonderful and powerful in their lives.
It usually happens during a HM workshop or Studio Demo. In some cases, people "get it" even earlier as they turn the pages of a personalized storybook for the first time. And for some, the moment arrives as they sit in front of their computer and realize they have created something very beautiful, something with real meaning, something that will bring joy to a loved one.
If you've had a hand in helping someone "get it," the feeling doesn't fade quickly. That's why becoming involved with the Heritage Makers business opportunity is so satisfying. You help people tell their stories, share their values, celebrate the everyday joy of living. Many HM consultants say they would do it for free! Fortunately, Heritage Makers offers rich financial rewards so consultants can do what they love to do, and earn the part-time or full-time money they need.
Frankly, there has never been a better time to get involved in the HM business. We are a young business—just five years old. The potential for growth is incredible. People want to go digital. They want to do something with their photos; they just need your help! We need consultants in every area so these people can "get it!"
I invite you to explore the benefits of becoming a personal publishing consultant with Heritage Makers. The holiday season is a wonderful time to start since everyone you know is thinking about his or her Christmas list. The fact is, you could bankroll your entire gift budget by spending just a few nights in the next couple of months introducing people to the fun and creative projects they can make in Studio.
Click on the image below to see our consultant starter kits. We offer payment plans that let you split your kit into 2 or 3 payments!
For more information, visit my website at
http://www.thekreativekorner.com or email me today!